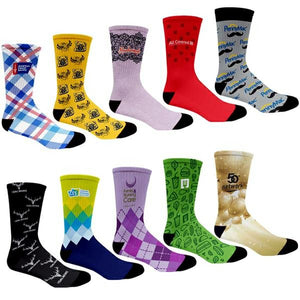 Black toe and heel flap help prevent creasing marks
during the sublimating process, delivering a professional finished
product for customers. This is a flat "Dress" type sock. It measures
7" from the center of the heel to the top. Socks are decorated to
look good in a sock drawer, but the art will distort when placed on
a foot or leg. Socks start white and when placed on a foot white
material is visible between whatever art is on the sock.
We will contact you to go over design choice for pattern after purchase.